5,000 psi
Analytical
1/16"
0.40 mm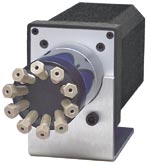 HPLC injector - PAEK stator, 1/16" fittings


Model C2 injectors and switching valves can be actuated manually or automated with pneumatic or electric actuators.
A complete valve product number includes information about the valve, actuator, and mounting hardware.
Valves include 1/16" PEEK nuts and ferrules.
The 6-port valve includes a 20 µl PEEK sample loop. Order other sample loops separately.
Product Details
Select the desired number of ports below to view product numbers:
4 port valves
6 port valves
8 port valves
10 port valves
5,000 psi
Analytical
1/16"
0.40 mm

4 port valves
Microelectric and universal actuators:
24 VDC, with 110/230 VAC to 24 VDC power supply
Description
Product No.
Manual
C2-2344
With air actuator
C2-2344A
With microelectric actuator
C2-2344EH
With universal actuator
Choose interface:
Standard
C2-2344EUH
RS-232
C2-2344EUHA
USB
C2-2344EUHB
BCD
C2-2344EUHC
Replacement valve
C2-2344D
Replacement rotor
C2-23R4
Replacement stator
C-2C44
5,000 psi
Analytical
1/16"
0.40 mm

6 port valves
Microelectric and universal actuators:
24 VDC, with 110/230 VAC to 24 VDC power supply
Description
Product No.
Manual
C2-2346
With air actuator
C2-2346A
With microelectric actuator
C2-2346EH
With universal actuator
Choose interface:
Standard
C2-2346EUH
RS-232
C2-2346EUHA
USB
C2-2346EUHB
BCD
C2-2346EUHC
Replacement valve
C2-2346D
Replacement rotor
C2-23R6
Replacement stator
C-2C46
5,000 psi
Analytical
1/16"
0.40 mm

8 port valves
Microelectric and universal actuators:
24 VDC, with 110/230 VAC to 24 VDC power supply
Description
Product No.

Manual
C2H-2348
With air actuator
C2H-2348A
With microelectric actuator
C2H-2348EH
With universal actuator
Choose interface:
Standard
C2H-2348EUH
RS-232
C2H-2348EUHA
USB
C2H-2348EUHB
BCD
C2H-2348EUHC
Replacement valve
C2H-2348D
Replacement rotor
C2-23R8H
Replacement stator
C-2C48H
5,000 psi
Analytical
1/16"
0.40 mm

10 port valves
Microelectric and universal actuators:
24 VDC, with 110/230 VAC to 24 VDC power supply
Description
Product No.
Manual
C2H-2340
With air actuator
C2H-2340A
With microelectric actuator
C2H-2340EH
With universal actuator
Choose interface:
Standard
C2H-2340EUH
RS-232
C2H-2340EUHA
USB
C2H-2340EUHB
BCD
C2H-2340EUHC
Replacement valve
C2H-2340D
Replacement rotor
C2-23R0H
Replacement stator
C-2C40H