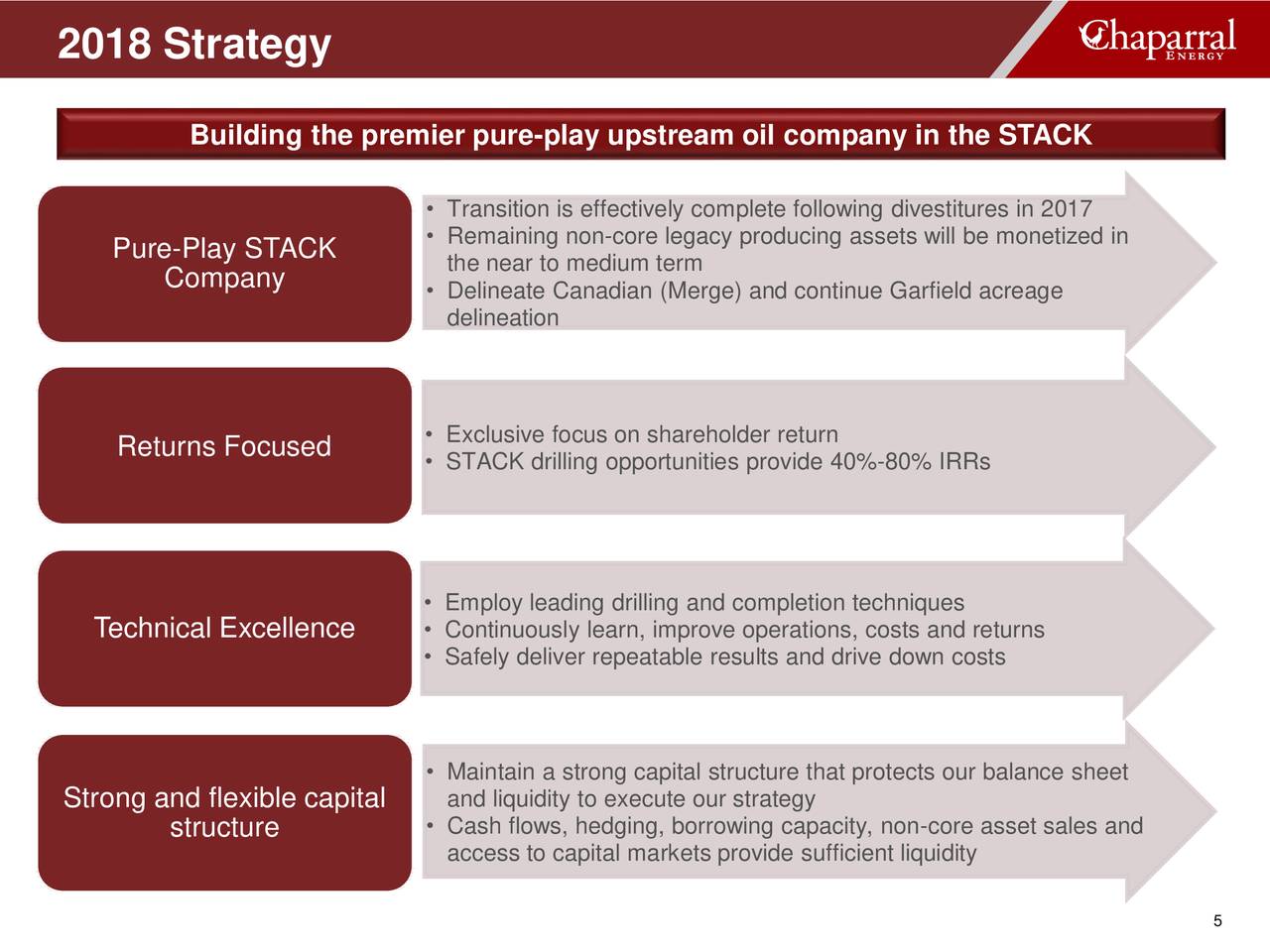 Let's make the case for Chaparral Energy: A turnaround investment opportunity.
Chaparral Energy, Inc. is an independent oil and natural gas exploration and production company headquartered in Oklahoma City, OK. The Mid-Continent operator has operations in Oklahoma's STACK Play, where it has approximately 130,000 net acres and more than 3,500 potential drilling locations.
The Case for Chaparral Energy – Turnaround Investment Opportunity – The Numbers Actually Add up!
In its latest fiscal year, sales shrunk by 15% but the company managed to be profitable with a Price/Earnings ratio of 10.34 and net profit margin of 13.5%.

Chaparral Energy – Turnaround Investment Opportunity

See statistics below – growth rate, profitability, and valuation sections – for detail.

CHAP's Gross Margin is more than 72% of other companies in the Oil & Gas Exploration and Production industry, which means it has more cash to spend on business operations as compared to its peers. CHAP controls its costs and expenses better than 71% of its peers.
CHAP's debt to equity ratio of .35 indicates that the firm has been less aggressive with using debt to finance growth than 78% of its peers in the Oil & Gas Exploration and Production industry.
Until recently, the stock was under pressure, but there is no critical or short-term liquidity concern.

Indeed, there is no major 'bet' against the company. Short interest as a percentage of float remains a reasonable 3.80%.
Investing in Chaparral is a risky value proposition, and it sure is no brand name.
Conservative or risk-adverse investors may want to stay away from the stock. At the minimum, prospective buyers may size their investment accordingly.
Learn How to Analyze Your Market and Trading Plan (Ad)
This said, a case can be made for purchasing the shares. Further, insiders are believers…
Portfolio Ideas – Chaparral Energy – CHAP – Source: E*TRADE
Insider Purchased the Shares – Sees the Case for Chaparral Energy – Turnaround Investment Opportunity
So far in 2019, Insiders have bought CHAP in a meaningful way.
Victor Khosla, Founder, Chief Investment Officer & Senior Managing Director, Strategic Value Partners, LLC, bought nearly $15 million worth of stock at an average price of around $5 a share. The distressed and deep-value investment firm is based in Greenwich, CT, and has assets of approximately $8.0 billion.
The CEO also invested.
His first purchases are well under water. He's added recently, essentially dollar-averaging. A positive overall.
The Technicals Are Improving
CHAP seems to be reversing.
Chaparral Energy Inc.
After some stabilization in the first quarter, the shares are finally moving up in higher volume. To be confirmed, of source!
Chaparral Energy – CHAP – Technicals Improving – Source: E*TRADE
A case can indeed be made that a recovery of the shares and turnaround, or at least a serious attempt at one, have started.
Thus, beware!
The firm is focused on Oklahoma's fast-growing STACK play, where it seems to be recording decent rates of return despite the recent (but evolving up?) low-price environment.
With more than 131,000 net surface acres, Chaparral has decades of STACK inventory just waiting to be developed.
The firm is profitable.

No major balance sheet problem could be uncovered. It seems dead set on protecting its balance sheet to execute strategy and providing sufficient liquidity through cash flow, hedging, borrowing capacity, non-core asset sales and access to capital markets.

No long-term maturities debt until December 2022.

It is focused on creating value for its stakeholders, and achieving 45 – 100% Internal Rates of Return (IRRs) from STACK/Merge drilling opportunities.
In conclusion, the firm seems to be heading in the right direction. It has no major balance sheet concern, quality assets, and is actually profitable.
The Stock of the Century - Buy This Stock RIGHT NOW! (Ad)
Please note, this one-pager is only provided as a starting point. Due diligence and further research are required before investing.
Disclaimer: I own the shares (1 out of close to 2,000 positions, well under 1% of portfolio…)
For pointers on a leading biotech fund, check out:
https://financialfreedomwiz.com/pointers-baker-bros-portfolio/
Follow us on Stocktwits
Please, consider:
Following us on Twitter at https://twitter.com/wiz_freedom
Following us on LinkedIn at https://www.linkedin.com/company/financial-freedom-wiz/about/
Liking us on Facebook at fb.me/financialfreedomwiz
Subscribing with us at https://www.youtube.com/channel/UChszzDPriBOWE3Qtk6PpWeQ
Image courtesy of  koratmember
at FreeDigitalPhotos.net
Check out the following video… 
https://www.youtube.com/watch?v=b55k86hbt1M
Image courtesy of ddpavumba at FreeDigitalPhotos.net
For tips on how many stocks you should have in your portfolio:
https://financialfreedomwiz.com/how-many-stocks-should-you-have-in-your-portfolio/
Get rich, Be Free!
And please visit us at FUNanc!al, www.funanc1al.com
For great stock market fun and…
A unique perspective on everything financial.
Investor, entrepreneur, producer, director and dealmaker.
Founder of MLI, FUNanc!al, Ah! Ah!
Ah! Entertainment.
Latest News
Other firms in development. Interested in a wide range of industries and technologies from biotech (genomics, RNAi, biosimilars, etc.) to high-tech (web, cloud, mobile, etc.), media & Entertainment, finance, and other verticals. Always looking for seed stage startups, new enterprises to invest in or projects to incubate or help finance.
Specialties include building new ventures (Internet, others), corporate mediation and conflict resolution, lead generation and the creation of innovative distribution models, brokering deals, venture capital, mergers and acquisitions. Experience and skills span general management, sales and marketing, operations, project management, turnaround or distressed assets, fund-raising, building new ecosystems and increasing the innovation throughput.
In celebration of the recent IPO Chaparral Energy, Inc. (NYSE:CHAP) rings the NYSE Opening Bell
Some enterprises help customers build a substrate of pipeline assets to drive revenue growth and achieve organizational excellence. Previously managed consulting assignments on behalf of major corporations including Hewlett-Packard Company, Computer Sciences Corporation, Hitachi Data Systems, Microsoft and others.
Has also worked in real estate brokerage (France), peacekeeping (with the United Nations at its New York headquarters and in Washington DC), retail and the airline industry.
Interested in, and always evaluating, various artistic ventures (art gallery, theater and movies).
Chaparral Energy
Enjoys dual citizenship (American, French) and is based in Cambridge, MA. Extensive traveler.