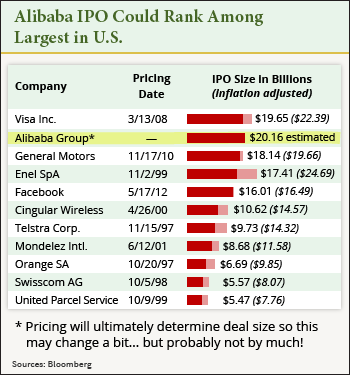 Alibaba Group Holding Ltd (NYSE:BABA)'s first day of public trading went off without a hitch on Friday. Interestingly, not many investors decided to enter through the back door by buying Yahoo! Inc. (NASDAQ:YHOO) shares.
However, Jefferies analysts think there's still upside to Yahoo stock based on its stake in Alibaba Group.
What Yahoo got from the Alibaba IPO
In a report dated Sept.
19, 2014, analysts Brian Pitz and Brian Fitzgerald and their associates estimated that Yahoo received about $6 billion in proceeds from Alibaba's initial public offering. That estimate was based on an $80 per share market price for Alibaba stock, which gives an implied value of $199 billion.
Is it time to buy Alibaba? #AskHalftime
Although shares are now trading below Friday's opening price, they continue to hover closer to $90, giving the Chinese online retailer a market capitalization of $231.05 billion.
In the IPO, Alibaba offered 320.1 million American depository receipt shares, including 140 million of Yahoo's shares.
The company's stake in Alibaba fell from 22.5% to 15% after the offering.
Yahoo said that it planned to use about half of the proceeds from its Alibaba stock sale to return some cash to shareholders. The Jefferies team believes this will be in the form of a special dividend and share buybacks.
They think the other half of the proceeds will mainly be used for acquisitions.
Estimating Yahoo's worth post-Alibaba offering
The analysts bumped up their base case pricing scenario for Yahoo from $45 to $46.50 per share, based on that $80 per share price for Alibaba stock.
In their estimate of a sum of Yahoo's parts, about $25 of their price target is determined by the market value of Yahoo's stake in Alibaba.
To create their base case, they assume a tax rate of 38% and a DCF determined valuation of 9.3 times 2015 EBITDA.
The full range of all the scenarios they created provides a value of between $42 and $51 per share.
The Jefferies team continues to rate Yahoo as a Buy.